Bed Bugs: Signs, Treatments and Prevention
All About Bed Bugs
Bed bugs are small, reddish brown insects that live on your bed and can be difficult to see. They don't have wings and are very good at hiding in cracks and crevices.
They wait until animals or people are asleep and then come out to bite, consuming blood. That's how they feed! Bedbugs love to be near people when they sleep, so they prefer to hide in areas around your sleeping area. They start laying eggs when they find a cozy spot; soon, there will be thousands.
If a bedbug bites you, you probably won't feel it at the time, but later, it can become itchy and make you want to scratch. We don't want these bugs in our beds because they can bite and make us feel itchy!
What Do Bed Bugs Look Like?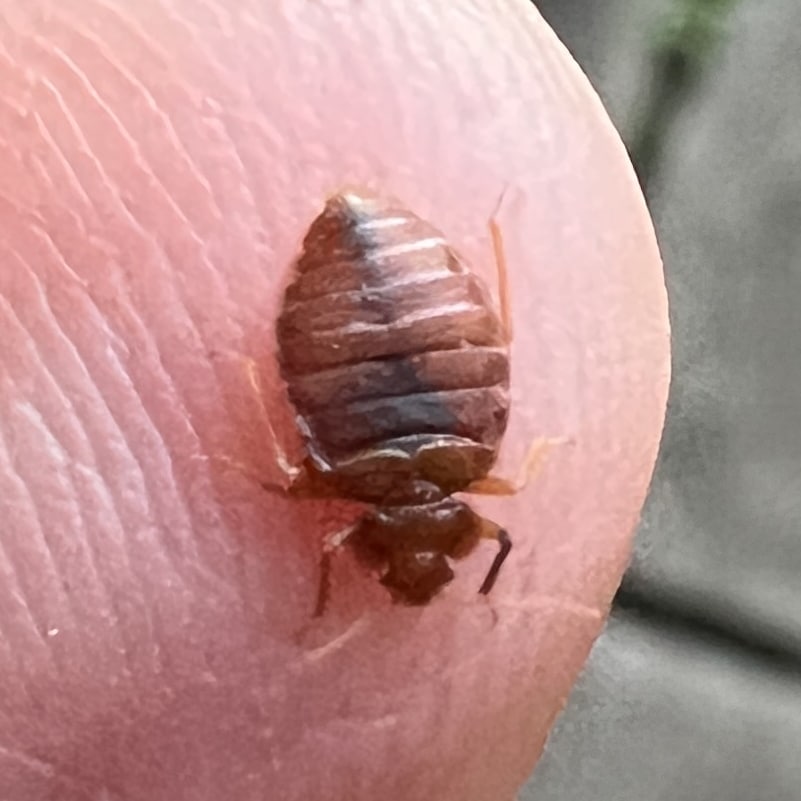 Adults are tiny, flat, brown bugs about the size of an apple seed. After they feed, they look more like tiny brown tubes. Because they are super small, they can be hard to see.
When bed bugs have a feast on your blood, they can leave little brown and red spots on your bed sheets — yuck! That is what happens if they poop or get squished when you roll over in your sleep.
Sometimes, you can if you have an infestation if you find tiny, transparent bug skins, empty shells, or a musky smell where you sleep.
How Many Eggs Do They Lay?
They are very good at laying eggs and can lay thousands of eggs in a lifetime. Their eggs are teeny tiny, just about as big as a small grain of rice, and transparent.
These little eggs need about two weeks to hatch into baby bugs. It's essential to clean up all of the eggs of infested area, not just the adult bugs, to make sure they are all gone.
If they are in a place they like, such as your bed, they can have many more babies. If we don't stop them, they will keep reproducing, so finding and treating them is crucial.
Where Do Bed Bugs Come From?
Bedbugs didn't start out in Australia. They came from faraway places, like Asia, Europe, or America. When people move around the world, sometimes they bring bedbugs along without knowing.
Nowadays, because more people are travelling to different places, these pests are spreading and can be found all around the world. Since everyone is so connected with planes flying here and there, they have become a big problem, not just in one place but everywhere!
How Do Bedbugs Get Into Your House?
Bedbugs can sneak into your home in many ways, and it's often a big surprise when they do!
Here are the 7 most common ways these little bugs might show up:
Travelling – They hitch a ride in your luggage when you go on trips both far away and close to home.
Visitors – Sometimes, they come in with friends or family who have these pests.
Second-hand Stuff – Furniture, clothes, or bags might have bedbugs hiding in them.
Vents – They can enter your place through small spaces like air ducts and ceiling vents.
Crowded Spots – Places where lots of people go, like movie theatres or trains, are spots where bed bugs can crawl on you.
Nearby Infestations – They can make their way to your place if they are next door,
School – Kids can accidentally bring them home from school in their backpacks or clothes.
The best way to keep bedbugs out is to be watchful and check for them, especially after you've been to places where they might have been.
Where Do Bed Bugs Hide?
Bedbugs are sneaky little pests that like to live close to their host because they need to feed on us to survive. You might think they only want to live in your bed, but they can live in many places including;
Beds, including the mattress, the base, and the frame
Behind the headboard
In the carpet
On walls behind the bed
Clothes & toys
They want to be close to where people sleep so they can come out and feed at night.
If you try to get rid of them or someone comes to help with special bug-killing sprays, sometimes the bedbugs will run and hide in new spots that are harder to find. That's why it's really important to use the right way to get rid of them so they don't just hide and come back later.
Why Do They Spread To Other Rooms?
These pests move around and go to different rooms for a few reasons:
When a female bed bug is ready to have baby bugs, she often finds a new place to live to make room for her babies, so when there's no more space where they are, they start moving into other areas on the bed or into different rooms.
Sometimes, when people use powerful bug sprays to kill them, the bed bugs can tell it's dangerous. So, instead of waiting around to get zapped, they run away to different places.
Even some home bug sprays can spread bugs. They might not be as strong, so instead of killing the bugs, they just make them move around the house, spreading the problem.
It's important to use the correct method to get rid of an infestation so you don't just chase them from room to room.
How Do They Feed?
Bed bugs feed by biting, like ticks or mosquitoes. Their beak works like a tiny needle to poke through the skin and suck blood. They can feed on you for about 3 to 10 minutes before they are full.
They are very small, so they don't take a lot of blood, so you won't lose too much, but if they decide you're a good snack, they'll return for more. And they might even bring their bug friends along too!
Are They Dangerous?
No, they are not dangerous, but bed bug bites can cause an allergic reaction and be very itchy. They don't give you serious diseases like some other bugs, which is good news. But their bites are another story. They might not hurt when they happen, but they can make you itch a lot afterwards.
When you get itchy spots from bedbug bites, it can make you feel really stressed out, especially because they like to bite in places where you're supposed to relax, like your bed or couch. If you feel itchy and uncomfortable where you're supposed to be cozy, it can really bother you.
If you do get bitten, there are some easy ways to help the bedbug bites:
You can put on a cream that helps with pain or itching, like one with aloe or calamine.
Washing the bites with warm, soapy water can prevent infection.
An ice pack can help calm bitten areas.
Some people don't react to bedbug bites, but some can get a bad reaction. See a doctor if your bites look worse or feel different from what we discussed.
Sign of Bed Bug Infestation: A Simple Guide
If you think you have an infestation, knowing how to find it is important. Sometimes, the first clue is itchy bites, but not everyone gets itchy, so you have to look for other signs, too.
Here's what you can do:
Look really closely at your sheets, mattress, bed frame and other places like curtains and upholstered furniture.
It's tough to see the eggs with the naked eye easily because they are so small.
If you find little stains that look like tiny blood spots on your sheets, then that might be because you squashed one after it fed.
They also leave little dark brown or black spots from their poop, especially where they like to eat, like your bed.
You can also look for their shed skins. Bed bugs shed their skins up to five times as they grow.
If there's a bad smell, kind of musty and sweet, it could mean you have an infestation.
You could use a special magnifying lens for your phone camera to make it easier to find these small signs. Then, if you take pictures of what you find, you can send them to us for identification.
Dealing with These Pests on Mattresses
Your mattress seams can be like a bed bug's dream home. It's comfy, close to their food source (which is you!), and has lots of little hiding spots. They usually hang out around the edges of the stitches, where they can stay safe and out of sight.
Here's how you can fight back against these pesky bugs:
Start by washing and drying all your bedding.
Clean your mattress carefully, especially around the edges and any crevices where they can hide.
Take your bed apart to clean every part, from the mattress to the frame, and use a vacuum to suck up any bugs or tiny eggs you see.
Use a steamer on your mattress to kill them instantly.
But what if they are all through your bed, not just on the mattress? Cleaning might not be enough then. One thing you can do is get a special cover for your mattress. It seals them in so they can't eat, and they eventually die off. Just make sure to keep the cover on for at least 18 months.
Even with the cover, keep an eye out for new bites for a few weeks. If you start getting bitten again, it means some bed bugs are still around, maybe on the bed frame or nearby. If that happens, you'll want to deal with those stray bugs right away to stop them from spreading.
Bug & Poop Stain on Mattress
Getting Rid of Bedbugs
Keeping an eye out is really important, especially when you're travelling or if you think they might be around. Regularly check your sleeping area—look at your mattress, sheets, carpets, and drapes, and do this even more carefully if you're staying somewhere new. The tips we've talked about can help you know what to look for.
If these nasties do show up, don't worry, you've got options. If they're just in your mattress, a bedbug-proof cover can seal them away. If they're all over the place, though, it might be time to take some serious action, either by tackling the problem yourself or calling in a professional pest controller for help.
No one can guarantee these insects won't ever enter your home—we all go places and can accidentally bring them back. But if you're careful and use these prevention strategies, you can greatly reduce the chance of these unwelcome guests. And remember, stopping them before they start is way easier (and cheaper) than getting rid of them after they've moved in.
Dealing with Them: Do It Yourself or Call the Pros?
Hiring a pest control company to get rid of your Bed Bugs might seem like the go-to move, but it's not your only choice. With a solid DIY plan, the right tools, and know-how, you can get rid of these pests on your own, saving money along the way. But if you do opt for a pro, check that they really know their stuff. Paying a lot for a half-done job is way worse than a bug bite.
Pros of Professional Pest Control:
– Could have lots of experience.
Cons of Professional Pest Control:
– May use a chemical treatment that the bugs are already resistant to.
– No promise of quick or forever solutions.
– Costs a lot, maybe $500-$1000 for each room, and usually needs more than one visit.
– They use strong chemicals you might not know much about.
– You may need to leave your house for a bit to avoid the chemicals.
– You'll have to wash all your clothes in the treated areas.
– Sprays could scatter the bugs instead of killing them.
– Might need to throw out some furniture.
– The chemicals often smell really bad.
– They usually don't help you prevent future issues.
Pros of DIY Treatment:
– Works fast and long term.
– Not poisonous.
– It is much cheaper than hiring a pro.
– Simple to put in place.
– Just treat your bed, not the entire room.
– Stay in your home during treatment.
– Won't make bugs run and hide.
– Our system comes with a guarantee.
– Can sleep in your bed after treatment.
– No bad smells.
– Loads of positive feedback from customers.
– Helps stop more outbreaks in the future.
Cons of our DIY Treatment:
– You have to do it yourself, which might be tough for those with physical limitations, but friends or family could lend a hand.
Check Out Our Bedbugs Solutions
We've got a bunch of stuff to help you fight bed bugs—like special mattress covers, natural bug-killing powder, steamers, barrier tapes, and more. Our products can eradicate them and keep them from coming back. Want to see everything we've got? Just click here to look at all our products.
Are You Looking for an Organic DIY Treatment?
Watch Our DIY Treatment Video For An Ensemble
Watch Our DIY Treatment Video For A Bed with Slats