Find everything you need to know about Bed Bugs below.
What are Bed Bugs?
Bed bugs are small insects that feed on the blood of mammals and birds. Adults are oval, wingless and rusty red colour and have flat bodies, antennae and small eyes. They are visible to the naked eye, but often hide in cracks and crevices. When they feed, their bodies swell and become a brighter red. In homes, they feed primarily on the blood of humans, usually at night when people are sleeping.
Organic DIY Bed  Bug Killer Powder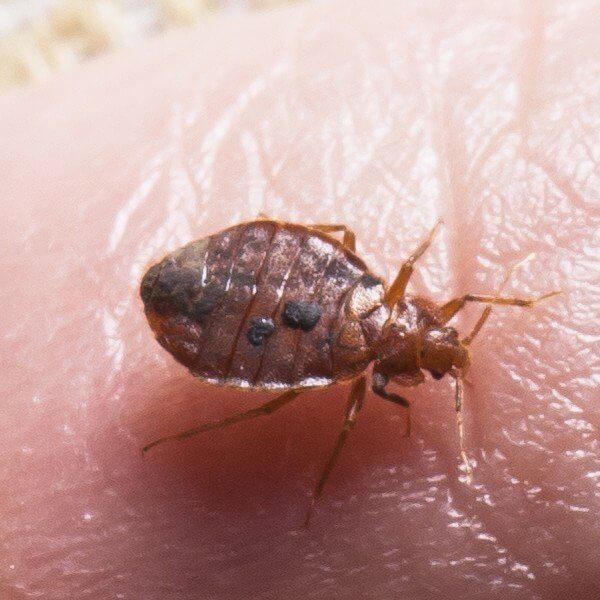 Why are they called Bed Bugs?
The name of the "bed bug" is derived from the preferred habitat of the bed bugs which is the beds and bedding or other sleep areas. Bed bugs are mainly active at night but are not exclusively nocturnal. They usually feed on their hosts without being noticed.
Where do  Bed Bugs come from?
Bed bugs are not native to Australia. They originate from Europe and Asia and were brought to Australia by travellers.
What do Bed Bugs look like?
What are Bed Bugs Signs & Symptoms?
The first signs and symptoms of a bed bug infestation may be the presence of bites on family members. A thorough inspection of your bed, mattress, surrounding areas and the common hiding spots may also reveal the bed bugs and their castings themselves, however, due to their size, they are often hard to see. Another sign would be small blood stains from crushed bugs on sheets or mattresses or rusty or dark spots of bug excrement on mattresses, bedding or walls. When bed bug infestations are severe an offensive, sweet, musty odour from their scent glands may be smelt.
Find the Bed Bug bite picture below
Do Bed Bug bites carry infections?
Bed bugs are known to cause a number of health problems, including skin welts, infected bites, scars, psychological effects and allergic reactions. They are infected by more than 30 human pathogens, but so far no study has found that can transmit these pathogens to humans.
What do Bed Bug bites & rashes look like?
The bites of a bed bug has a number features such as large welts that diminish to a red spot that slowly fade over a few days, itchiness, reddening of the skin, localised swelling, formation of blisters and scars if the bed bug bites become infected.
Treatment for Bed Bug Bites
So far bed bugs are not known to transmit blood-borne diseases such as HIV or malaria; although the bites can be extremely itchy and distressing. Treatments include using calamine lotion or anesthetic creams to treat the itching, wash the bites with antiseptic soap to reduce the risk of infection, apply an ice pack frequently to help relieve swelling and resist the urge to scratch. Do your best not to scratch because it can cause an infection.
What Causes Bed Bugs?
Bed bugs and their eggs are accidentally brought into your property by visiting an infested property or having a guest from an infested property stay with you. They are also brought in by infested items such as furniture, clothing, and backpacks. They are also known to enter your residence via close dwellings through the air duct or false ceilings. Bed bugs also come from people visiting an infested area such as a subway, movie theatre or hotel.
How long do Bed Bugs live?
The typical lifespan of a bed bug is about 10 months and they can survive for weeks to many months without feeding.
What is the Bed Bugs Life Cycle?
What is natural control treatment?
Bed Bug Killer (Diatomaceous Earth) is a non-toxic bed bug killer. Steam is also a non-toxic bed bug killer.
The Bed Bug Barrier Control System offers a low cost and natural DIY pest control system with a step by step instructional video.
How to kill Bed Bugs in Australia?
Australia's only non-toxic and long term bed bug solution can be found at Bed Bug Barrier. The best bed bug treatment is Bed Bug Killer powder. Bed Bug Killer is a natural non-toxic treatment for bed bugs. Bed Bug Killer powder also gives years of on-going protection.
Where do Bed Bugs hide?
Bed bugs can live in any area of a property and can live in dark tiny cracks and crevices. They tend to be most common in areas where people sleep and usually more concentrated in beds, including mattresses, bed bases and bed frames. Other sites where bedbugs often live include curtains, edges of carpet, corners inside dressers and other furniture, cracks in wallpaper particularly near the bed and inside the spaces of wicker furniture.
Why do Bed Bugs spread to other rooms?
Bed bugs usually spread to other rooms or apartments when toxic chemicals are used which force the bed bugs to find safer nesting areas.
How to find Bed Bugs in the mattress?
Inspect the entire mattress for bed bugs, eggs, castings, blood spots and faeces. Use a bed bug proof mattress encasement to trap bed bugs and their eggs inside the mattress to kill them.
How to kill Bed Bugs in the mattress?
It is not a good idea to use chemicals on the sleeping mattress, instead, use a Bed Bug Proof Mattress Encasement to kill bed bugs living on the mattress and remove the nesting area for the bed bugs.
What do Bed Bug eggs look like?
Bed bug eggs are almost invisible to the human eye, they are white and tubular in shape.
What do Bed Bugs castings look like?