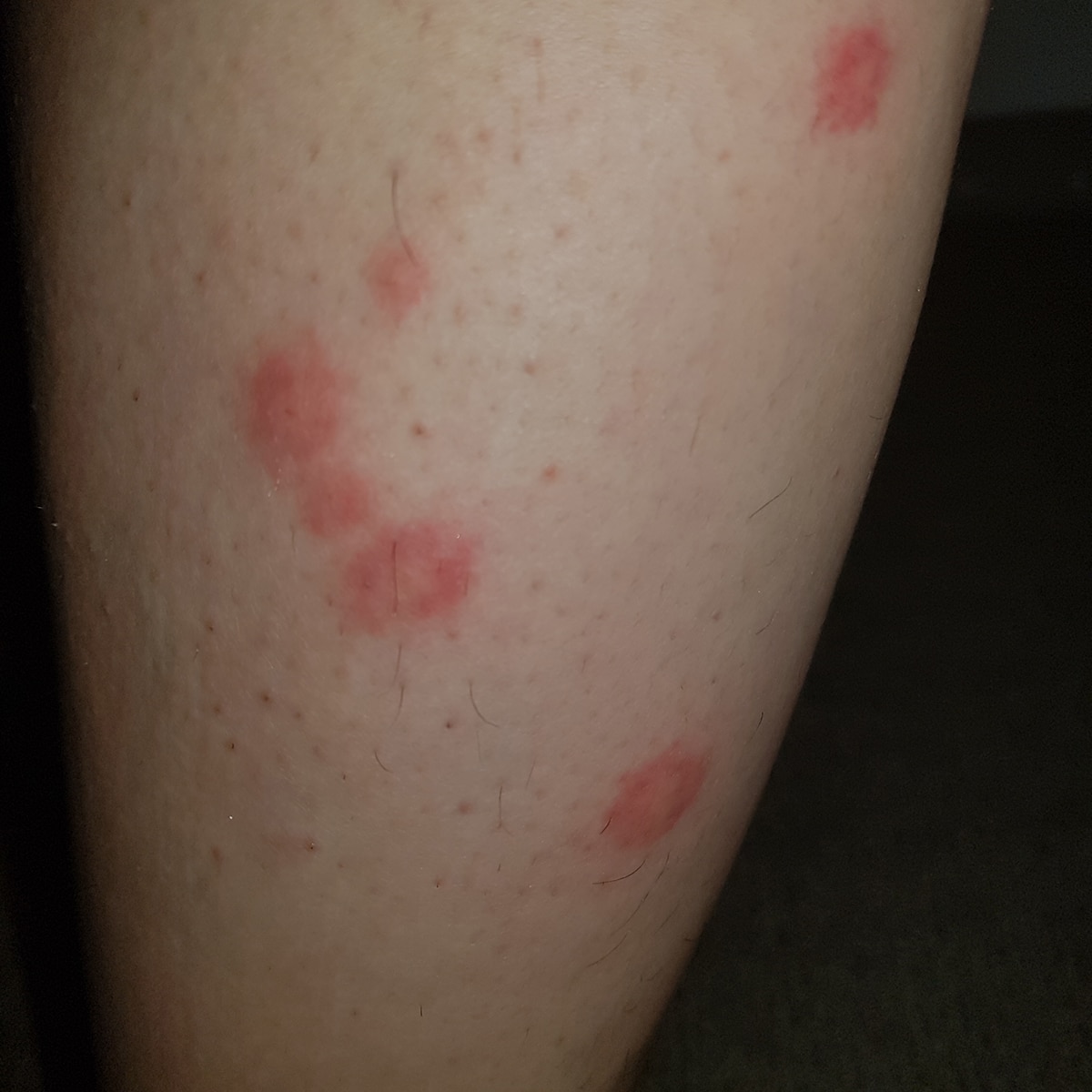 Bed Bug Bites
Identify Bed Bug Bites
These tiny insects can live in your bed and sting you without you initially feeling it. The adults are the size of an apple seed and have a particular juice that numbs your skin when they feed. So, when they attack, it doesn't hurt right away. Thankfully, they don't spread disease. Like other warm-blooded animals, bed bugs rely on their host's blood for survival.
After a little while, you may notice red bumps on your skin. These marks can be red and swollen, like tiny bumps on your skin. They might be in one place or all over. They can look like they are in a line or grouped together. They are very itchy and can make your skin feel like it's on fire. These bites often occur in places where bed bugs hide, such as mattress seams.
These bloodsuckers don't eat every night like we do; they might eat once every ten days. But if you have a lot of them, you might get bitten every night because there are so many of them, and they all need to be fed. Regular cleaning with a vacuum cleaner can help reduce their numbers in infested areas.
Sometimes, it's hard to tell if they are biting you because not everyone feels it. About half of the people who get bitten don't see them. So, they only know bed bugs are there once there are hundreds or thousands of them.
It's tricky with these tiny vampires because it can take a while before you realise they are biting you a lot. That's why it's essential to look out for little red marks, especially if they itch a lot. Bed bug bites can appear on exposed areas like the face and neck during sleep.
When Do They Bite?
These creepy crawlers, who live in cracks and crevices, are usually night-time nibblers. They wait until it's dark and you are fast asleep. Then they come out to eat. They have a pointy part like a tiny straw that they poke into your skin to drink your blood. They eat for a bit, maybe 3 to 10 minutes, then sneak away so you don't notice them.
When they feed, it doesn't usually hurt. But later on, those stings can turn into big, itchy spots. Other bugs that fly, like mosquitoes, can bite you at night, too.
Sometimes, it might not be them when you get itchy spots. But if you keep getting bitten when you're in bed, you might have to play detective to see if bed bugs are biting. To be sure, you have to find and see the bugs with your own eyes. If possible, put anything you find in a plastic bag to show your doctor or pharmacist.
How Long for Bed Bug Bites to Appear?
It may take a few days for you to notice the bites caused by bed bugs. The bites may appear in a few hours for some persons and up to two weeks for others. This occurs because no two bodies are the same, and no two bodies express "ouch" at the same moment.
The bites appear because of the spit of the bed bug. Certain individuals may not experience redness or itching, but others may get little uncomfortable red pimples. The red lumps may appear more quickly and itch more intensely if bed bugs continue to bite.
The presence of red bumps, which often resemble a line or small group, indicates the presence of bed bugs. Bed bug bites are not immediately noticeable, unlike mosquito bites. Your skin takes longer to react and tell you, "Hey, something bit me!"
What do They Look Like?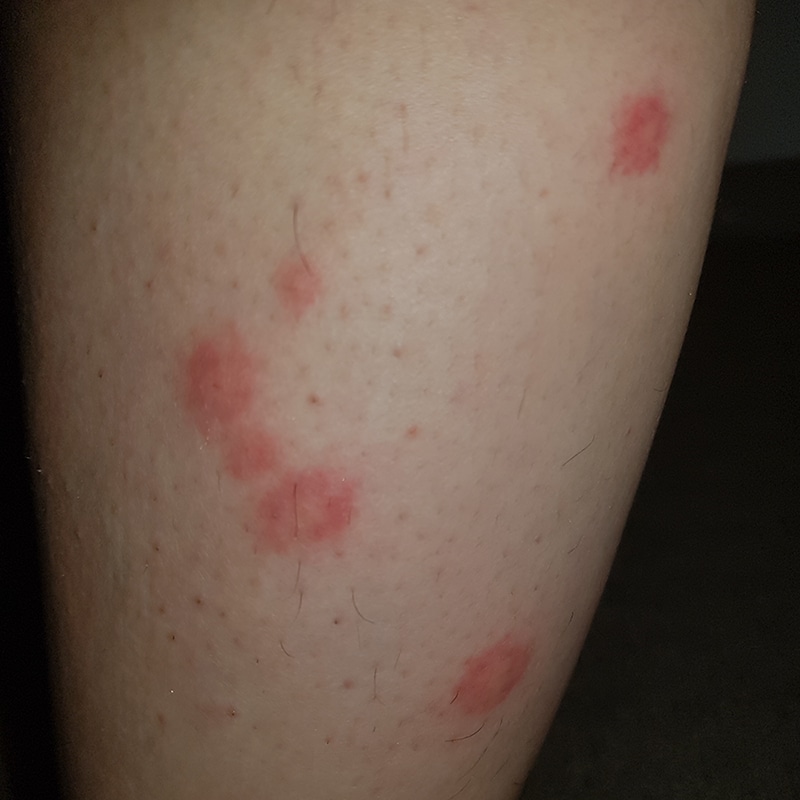 Sometimes, when bedbugs attack, you don't see anything on your skin. But when you do see them, here's what they might look like:
They are red and puffy, like little red mountains with a darker spot on top.

They often show up in a straight line, a zigzag pattern, or in a bunch together, and boy, they can make you itchy!

Bed bugs aren't picky; they can nip anywhere on you. But they usually go for the parts of your skin that aren't covered up by your pyjamas or blankets when you're sleeping. So you might get them on your face, neck, arms, or any place your skin is out in the open.

Sometimes, they can change and look like tiny water balloons on your skin.
That's what can happen with bedbug nips. They can be sneaky and itchy, but now you know what to look for!
Pictures of  Bites
Imagine seeing a picture of someone's back with a lot of little red, puffy spots. This lady in the picture got bitten all over her back. These spots are very itchy and can upset you and even keep you from getting a good night's sleep.
If you wake up and see marks on your skin, it's a good idea to look at pictures of bedbug marks. This can help you determine what bit you: an insect or something else. There are other bugs, like fleas and mosquitoes, that might bother you while you sleep, too. But bedbug marks look a bit special. They usually make a line or a little group. Most other bugs don't do that. So, if you see them in a line, it might be them.
How to Treat Bed Bug Bites
If you get bitten, the marks should improve in about 1 to 2 weeks. To help your skin feel better, you can:
Put on calamine lotion or a cream that stops the itching.

Take a pill called an antihistamine if you're very itchy.

If it hurts or is swollen, you can take a pain reliever from the store.

If they make you feel super anxious, or if your skin gets really angry and puffy, you should go see a doctor.
Sometimes, the place where the bed bug bites you can get really sore and red like it's infected. If you think this is happening:
Wash them gently with warm, soapy water; avoid hot water. 

Try really hard not to scratch them, even though they're itchy.
Keeping them clean and not scratching will help your skin not get infected.
Bed Bug Bite Medication
The two most popular over-the-counter medications for bites are hydrocortisone and antihistamine. Hydrocortisone is excellent for stopping the itch. You can find these creams at any pharmacy.
Sometimes, the bites can be so itchy you want to scratch constantly. But scratching isn't good because it can infect the areas and hurt more. That's where "antihistamine" medicine can help. It's a type of medicine that helps with itching. You can get it from the store, too.
If the bites look red and super itchy, and the creams and antihistamines don't help, then seeing a doctor is essential.
So, always remember, if bed bugs bite, you can use creams to help with the itch. And if those don't work, a doctor can give you something more substantial. That way, you'll stop itching and feel better soon!
Do Bed Bug Bites Itch?
Finding out that you have a bed bug infestation in your home is no fun. Besides the icky feeling of knowing they're around, their bites are a big clue that they're living with you. And they can be really bothersome.
Most of the time, they are super itchy. They can look like teeny tiny dots or big puffy spots. People feel them differently. Some might get a small itch, while others might itch a lot.
The itch from a bed bug feast can be different for everyone. If you get allergies, you might itch more and feel even worse. The more bed bugs attack you, the itchier you might get. They usually arrive when you're sleeping, and without thinking, you might scratch in your sleep, making the itch feel even more annoying.
Not everyone gets itchy from them, though. About half the people don't even feel them! So, if two people are sleeping in the same bed, one person might get a lot of marks and itch like crazy, but the other person might not get anything at all. That can be pretty confusing.
Home Remedies
Okay, let's talk about ways to make them feel better with stuff you might have at home.
If you get bit and it's itchy and uncomfortable, here's what you can try:
– Put something cold like an ice pack wrapped in a towel or a cold, wet cloth on the itchy spots.
– Mix up a little bit of baking soda with water until it's like a runny paste, and dab it on them.
– Some special smelly oils, like the kind from a camphor tree or chamomile flowers, might help, too.
People are still figuring out if these smelly oils really help with bug bites, but some folks think they do.
Baby Bed Bug Bites
Bedbugs are little insects that really just want to eat and make more bugs. And they like to eat blood. Even though it sounds scary, they are really good at hiding and finding people for a blood dinner. This means that even babies can get attacked when sleeping.
If bedbugs are around, babies and kids can get stung just like grown-ups. Most of the time, babies don't wake up because of the feeding, but you'll see little red marks on their skin in the morning, especially during bath time when you can see their skin clearly.
If you think bed bugs have bitten your little one, you should check where they sleep. Look at the sheets, mattress, and around the bed. You might see signs of bed bugs.
If you find red spots on your baby or kid, here's what you can do:
– Gently wash the area with soap and water.
– Put something cold like a cloth with ice on to make them feel better.
– You can also put on some calamine lotion to help with the itching.
If you're thinking about using cream from the store or giving medicine to stop the itching, it's best to talk to a doctor first because not all treatments are okay for little kids.
If your child is old enough to understand you, tell them not to scratch. Keeping their nails short and putting a bandage over the marks can help stop them from scratching too much.
What Can They Be Mistaken For?
Let's consider how you can tell if you got bit by a bedbug or something else.
It's really good to know if bedbugs are biting you because nobody likes to feel itchy in their bed. But sometimes, you might get bumps or see red marks, and it's hard to know where they're from. Could they be from mosquitoes? Or a different bug?
Here's how you might be able to tell bedbug bites from others:
– Bedbug marks often look like little lines or clusters on your skin.
– Mosquito stings are usually just one bump here and there, and they look like small puffy hills.
– Other bugs can attach, too, but Cimex lectularius spots have a special pattern, like they're in a row or a little group.
So, if you wake up with itchy spots and they're in a line or a bunch, it could be bedbugs. If the spots are all over the place, with no pattern, it might be mosquitoes or some other bug.
Bedbug Bites vs
Mosquito:
– Often larger and more spread out.
– They appear almost immediately and are randomly placed.
– Can sting through clothing and only bite at night.
– Common after being near bodies of water or in humid environments.
Flea:
– Typically located on the lower body.
– Immediate sensation upon biting.
– Associated with pets.
Spider:
– Characterised by two puncture marks.
– Usually an isolated incident, not in a pattern.
– Venom effects vary significantly.
Carpet Beetle Rash:
– Causes a rash rather than discrete bites.
– Result from an allergic reaction to carpet beetle larvae.
Bird Mites:
– Similar to bedbugs, but habitat differs.
– Bird mites are often found near birds' nests or entry points like windows.
Scabies:
– Caused by mites tunnelling under the skin.
– Presents more as a rash with greyish-white lines.
Autoimmune Reactions (Wells' Syndrome):
– Resemble bedbug bites but are due to the immune system attacking healthy cells.
Heat Rash:
– A patchy rash that occurs from heat exposure.
Pimples:
– Caused by dirt and irritation, not insects.
Eczema:
– Presents as itchy, flaky skin patches; they are not as raised.
To discern what type of mark or skin condition you have, consider recent activities, inspect your environment, and compare your symptoms to common characteristics of each situation. If uncertainty remains, it's often best to consult a healthcare provider or pest control expert to determine the correct cause and treatment.
Are You Looking for an Organic DIY Treatment?
Watch Our DIY Treatment Video For An Ensemble Bed
Watch Our DIY Treatment Video For A Bed with Slats