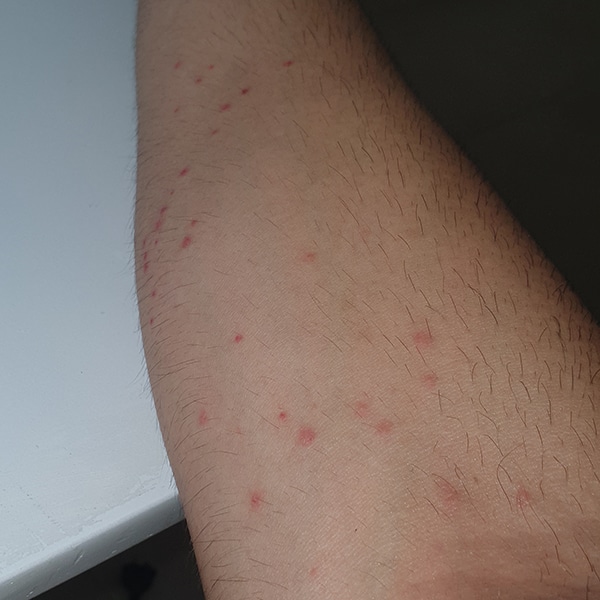 Bed Bug Bites in Australia
'Sleep Tight, and Don't Let the Bed Bugs Bite.'
We've all heard it, but we often don't expect it to be an actual rule to live by. Sadly, bed bugs in Australia are a fairly common problem, and with these pests come bed bug bites. Now it's not that Australian bed bugs are any more vicious than the species in any other part of the world, but because they're so commonly found here, it means that people living in this country need to take more precautions.
Bed bug bites are primarily known for being itchy, unsightly, and uncomfortable, but they can also contribute to a plethora of other problems. A bed bug infestation can cause sleep anxiety and insomnia to manifest, which in turn can lead to low mood, depression, and even heart disease in severe cases. While bed bugs themselves might only be around the size of a small apple seed, they can wreak some serious havoc on your life if they're allowed to.
In short, bed bug bite symptoms don't start and finish with tiny itchy patches on your skin.
We've put together this blog to expand on bed bug bites, so you can have the knowledge you need to spot them when they arise, distinguish them from other marks, and better understand their risks, among other relevant topics. With these kernels of information, you'll be better equipped than ever to begin treating your bed bug infestation and returning to restful nights of sleep.
What Do Bed Bug Bites Look Like?
Bed bug bites take the form of small and raised red bumps on pale skin, while they may appear purple on those with darker complexions. The marks themselves will usually manifest on your body within 24 hours of you being bitten, meaning that they may only show up the next evening when it's time for bed.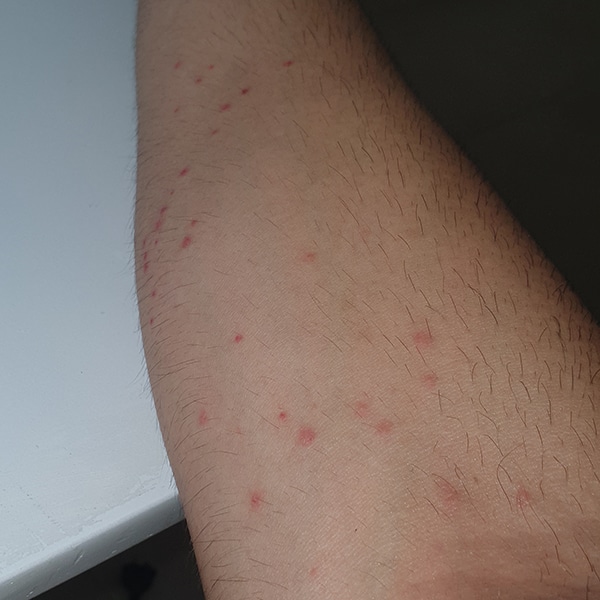 It's also worth noting that everyone's reaction to bed bug bites will be different, with some skin types showing the bites immediately and others taking up to two weeks to reveal the marks. In the same vein, some people may not react at all to bed bug bites, while others might react far more seriously. In some cases, the bites might show up as a larger rash, reminiscent of eczema, or even come through in sizeable swollen patches.
Your exposure to bed bugs over time is another aspect that plays into your reaction to the bites, with your skin becoming more sensitive to them the more it gets bitten.
While it's possible to notice only one bite at the beginning of an infestation, it's not entirely common. Generally, bed bugs will take more than one bite in a session (after all, you're their primary source of food!), and that's not to mention the size of the family that will be feeding on you. Often you'll find that the bites amass in clusters, zigzags, or straight lines, with these patterns being key indicators of a bed bug infestation.
Can You See Bed Bugs While They're Biting You?
Bed bugs are very small, but they're not exactly invisible to the human eye. It might sound preferable to catch the creepy crawlers in the act so you can simply smack them out of existence, but sadly it's not that simple.
Bed bugs tend to do their feeding at night when their meal ticket (you) is asleep and not moving so much. They generally don't opt to feed on awake or moving targets, as they're much less likely to have the time to complete the job. They're not necessarily nocturnal, so staying up late to try and enact your bed bug inspection isn't an option.
Annoyingly, you also aren't likely to be woken up by bed bug bites, so you can't track them back to their habitat after a feeding session. This is because bed bugs transfer a form of natural anaesthetic through their bites, which numbs the sensation in the moment of feeding so as to not alert their prey.
Because of these factors, it's highly unlikely that you'll ever be able to spot bed bugs while they're biting you. However, it's not as if the bugs disappear in the daytime, so when you notice an infestation, you should be able to find them in their typical hiding spots. Examples include under the mattress, within the bed frame, and even within the walls.
Can You Have Bed Bugs Without Being Bitten?
It's highly unlikely that you're going to have bed bugs without getting bitten. However, if you have a dog or any other kind of pet that sleeps in your room with you, then they may choose them as their primary source of food. But even if this is the case, humans are still almost always the first choice for bed bugs.
With this in mind, some people simply don't react to bed bug bites, meaning that an infestation can go unnoticed for an extended period of time. While you will still be getting bitten, something about your constitution means the signs simply won't show up on your body.
This means knowing how to tell if you have bed bugs in other ways is essential.
If you don't react to bites, you can look out for some other telltale signs when searching for bed bugs on mattresses, sheets, or other areas of the room. For example, bed bugs can leave small red and brown stains all over your bed, both in the form of blood and excrement.
The red stains come from times when you might roll over onto a bed bug while it's feeding, squishing the blood it just sucked out of you into the sheets. The brown stains are simply little spots on the sheets where the bugs have decided to do their business (as if they weren't taking enough liberties with free rent and meals!).
How to Know if They Are Bed Bug Bites?
Knowing the difference between bed bug bites and other bites can be a little bit tricky. It's also important to be able to distinguish between them, especially because a bed bug treatment is generally more severe than the kind you might use to deal with mosquitoes.
Below are some key characteristics of different insect bites:
Mosquito Bites: Generally red, larger than bed bug bites, puffy, and itchy. They can swell up fairly quickly, especially when scratched, and often come in clusters.
Tick Bites: Generally found in isolation from one another, while the tick may remain buried in the skin itself for some time after burrowing in. LOADED with diseases.
Scabies: Scabies are formed by mites that burrow under the skin, manifesting as crusty and scaly patches and/or pimples.
Fire Ant Bites: These bites are scattered around more randomly, manifesting as red bumps with yellow blistered tops that can sting quite severely.
Flea Bites: Flea bites manifest in an instant, generally being clustered around the lower legs and feet. They're fairly flat while still very itchy, coming with wider red 'halos'.
Fly Bites: Collective rashes, built up of small and itchy red dots. These bites have been known to spread diseases.
Horsefly Bites: With horseflies so large, it's not surprising that these bites can leave large marks of bruising and discolouration.
Spider Bites: These bites will generally show up with two puncture marks from the spider's teeth, with some being deadly to humans.
Use this list, along with the previous paragraph about the signs of bed bugs and their bites, to determine the nature of your infestation – then you can act accordingly.
How Big Can Bed Bug Bites Be?
The size of bed bug bites themselves isn't something that you can always be certain of. As mentioned before, some people react far differently to others when it comes to these critters. If you're unfortunate enough to be allergic to bed bugs, your reaction could result in large, highly irritated, and swollen patches.
However, in general, most people will experience bites around 12mm or half an inch in size. But remember, this can all change depending on how many times you've been bitten, along with the size of your infestation.
Conclusion
Hopefully, through reading this blog, you feel more in-the-know about bed bug bites and how to best identify them. If the marks do start showing up on your body, check out our range for a variety of bed bug control products, all entirely free from toxins and dangerous chemicals.
With eco-friendly DIY pest control, we can deal with bed bugs once and for all.
Are You Looking for an Organic DIY Treatment for Bed Bugs?
Watch Our DIY Bed Bug Treatment Video For An Ensemble Bed
Watch Our DIY Bed Bug Treatment Video For A Bed with Slats